EBooks – The Series
GOLF'S SIMPLE SECRETS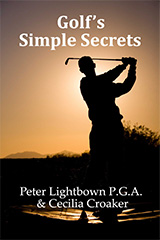 Golf's Simple Secrets was our first book and what we thought would be our only book. When this book hit the IBook store it immediately became a best seller in Australia and performed well in other countries.
GOLF'S SIMPLE SECRETS - ILLUSTRATED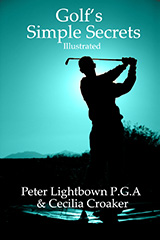 An updated version of the first book with a couple of pictures. Buy one or the other and learn how to stop slicing, topping and shanking the ball.
GOLF'S SIMPLE SECRETS - THE SHORT GAME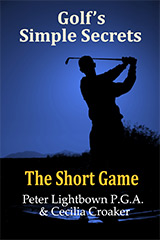 Third book in the series. You will learn how to pitch, do reliable bunker shots and the chip shot..
NEWS 6/2/13.. I am now taking bookings for golf lessons - please call me on 0415 740 511. We are going to print! Our print book will be available early next year.
NEWS 10/11/2012..... We are thrilled that our new book "Golf's Simple Secrets - Increase Your Power" is finally finished and should be available in all the stores during the next couple of weeks.
GOLF'S SIMPLE PUTTING SECRETS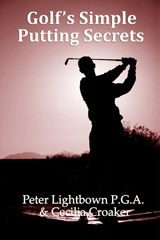 Find out the simple ways of developing an effective, natural putting stroke, free of anxiety and tension.
GOLF'S SIMPLE MENTAL GAME SECRETS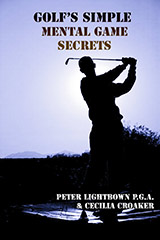 We all know what it is like to hit a good shot followed by a terrible shot (or the post birdie syndrome) leaving us bewildered. Learn how to overcome this by practising at home and on the driving range.
GOLF'S SIMPLE SECRETS - INCREASE YOUR POWER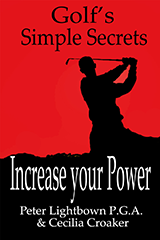 This is the book that you have been waiting for! Learn in simple terms, a scientifically proven, effective way to increase your power and distance - not just for the driver but all you fairway metals, hybrids and irons too.
Review of Golf's Simple Mental Game Secrets.....
Five Stars
"This book is truly helpful. Peter hits the nail on the head with his mental tips.
A must have for every golfer!"

IBook reviewer 27th June 2012

Review of the Golf's Simple Mental Game Secrets
"This is an important book. In contrast to the great majority of golf coaching books - which work against us - this one actually helps us. It does this by showing us how to utilise the body's most powerful learning weapon - our brains. This approach to the golf swing is scientifically proven as the most effective approach, and it's also the simplest! The golf swing doesn't need to be so technical, so confusing, so complex, and so difficult. Hammering a nail (a similar skill) isn't... Peter Lightbown explains the psychology of controlling a golf swing in a simple and enjoyable manner. An excellent book." Professor Chris Riddoch (sports scientist)