The Fairway Within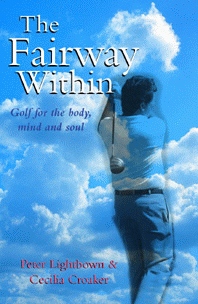 The Fairway Within
shows how to liberate yourself from the straitjacket of traditional techniques. In this practical book you will learn how to move freely and spontaneously, and so uncover your own innate swing.

ISBN: 978192076Details:9338
ISBN-10: 1920769331
Classification: Golf
Format: 
Paperback
(235mm x 155mm x 14mm)
Pages: 224
Imprint: Scribe Publications Publisher: Scribe Publications
Publish Date: 1-Nov-2004
Country of Publication: Australia
You can buy the print book from Boomerang Books. It is not available as an ebook yet.
Buy Book
Read a short review of The Fairway Within from Good Reading Magazine – click here
Transcript of interview with Peter on Radio National:
The Fairway Within – The Sports Factor – ABC Radio National Want to find your inner swing? Keen on playing a round of golf without smashing your clubs in frustration? A new approach to improving your golf technique just might save you from this. And it's applicable to other forms of activity as well.
http://www.abc.net.au/radionational/programs/sportsfactor/the-fairway-within/3430204
– 22 Nov 2004
The science behind simplicity

At last there is scientific verification that the golf swing needs to be simple in order to be effective:
http://thegolfswingzone.com/Scientific-background.html